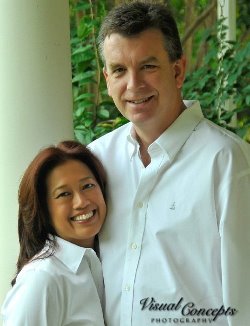 Allison's Restaurant is family owned and operated by brothers Jim and Bill Hamrock. Jim has been in the restaurant industry since the age of 15, working summers as a teenager at Phillip's Restaurant in Ocean City, Maryland. He moved on to Amelia's, a fine dining restaurant in Crystal City, Virginia, then for the next 22 years as the Executive Chef at Pulicinella, an Italian restaurant in McLean. Jim went to culinary school at L'Academie de Cuisine in Bethesda.
Younger brother Bill began working in restaurants at the age of 13. Despite warnings from his older brother of the rigors of the business, Bill attended the Culinary Institute of America in Hyde Park, New York. Upon graduation, he started his professional career at the Ritz Carlton Hotel in Tyson's Corner, Virginia. He has also worked in Nantucket, Massachusetts and Zurich, Switzerland. He came back to Virginia and worked at the Carlyle Grand Café and the 17th Street Bar & Grill in D.C. before opening his own venture in Arlington, Portabellos, An American Café. He is also a partner at Pasha's Café, also in Arlington.
Jim moved to Crofton with his wife, Chona, and after 12 years of commuting to Virginia, he decided to leave Pulcinella, where he was now a managing partner, and open a restaurant closer to home.
With both brothers' experience as restaurateurs, it was a natural fit to go into business together and open Allison's Restaurant, named after Jim and Chona's daughter. (Bill's idea, even though he has 3 kids of his own!).
It certainly is a family affair, with Jim running the kitchen, Bill managing the front, and Chona "working the crowd" and making sure the customers are happy.
Together, they're making Allison's Restaurant a local favorite where diners can have great food with good friends in a comfortable setting.