(Note: Prices are subject to change. Please check our in-restaurant menu for the most recent pricing)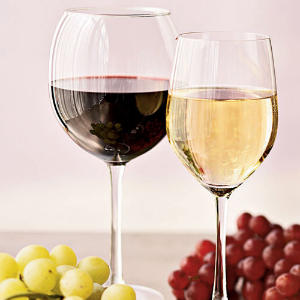 White Wines
White Zinfandel, Brownstone, California 6.00 glass 23.00 bottle
Very Lively, Fruity Wine
Pinot Grigio, Primaterra, Italy  6.00 glass 23.00 bottle
Hints of Apples and Fresh Flowers.Very Clean, Soft Finish
Sauvignon Blanc, Pedroncelli, California 7.00 glass 25.00 bottle
Bright, crisp, refreshing with spicy seafood
Riesling, St. Urbans Hof, Germany 8.00 glass 29.00 bottle
Brilliant fruit, ripe floral aromas, sweet with mineral characters
Semillon, Peter Lehman, South Australia 7.00 glass 25.00 bottle
Zesty, limey, honeyed fruit, pair with seafood and pastas
Torrontes, Alamos, Argentina 7.00 glass 25.00 bottle
Peach nectar and jasmine presence with a dry clean finish
Chardonnay, Steeple Jack, Australia 6.00 glass 21.00 bottle
Unwooded chardonnay, crisp and balanced
Chardonnay, Cycles Gladiator, California 7.25 glass 26.00 bottle
Peach and pineapple flavors, subtle spice from the oak, rich and ripe
Chardonnay, Saintsbury, California 40.00 bottle
A great California Chard, buttery with oak and fruit
Sparkling, Prosecco Brut, Italy 30.00 bottle
Intensely aromatic, elegant and distinct bouquet, dry smooth taste
Red Wines
Malbec, Santa Alicia, Chile  6.50 glass 23.00 bottle
Deep color, medium bodied wine with blackberry aromas and flavors
Pinot Noir, Fat Bastard, France 7.50 glass 28.00 bottle
Soft tannins, ripe cherries and plums, finishes with a toasty cedar aroma
Barbera, Bricco Del Tati, Italy 6.00 glass 21.00 bottle
Black cherries and a bit of spice.  Great with cheese and pasta.
Montepulciano, San Lorenzo, Italy 7.50 glass 28.00 bottle
Intensely spicy and smoky with red cherry and plum undertones
Zinfandel, Dancing Bull, California 7.00 glass 25.00 bottle
Versatile, plenty of fruit with spicy black pepper and vanilla
Shiraz, Piranga, South Australia  7.00 glass 25.00 bottle
Ripe fruit, spicy shiraz character with white pepper
Merlot, Little Black Dress, California 7.00 glass 25.00 bottle
Your "go to" red.  Medium bodied. Herbs and fruit with a hint of oak
Cabernet Sauvignon, Steeple Jack, Australia 6.50 glass 23.00 bottle
Mulberry, plum and spice with a hint of Dutch chocolate and mint
Cabernet Sauvignon, 1919, Argentina 7.50 glass 28.00 bottle
Deep red color, rich herbs, red fruit notes and black spices
Cabernet Sauvignon, Smith & Hook, California 45.00 bottle
Black cherry, cassis, raspberry, bell pepper and cocoa. Well developed.
Rhone, Louis Bernard, France 30.00 bottle
Big, bold bramble fruits, slightly tart, soft finish. Ripe for sipping.
Bottled Beer
Bud Light, Budweiser, Coors Light, Michelob Ultra, Miller Light 3.75 glass
Amstel Light, Corona, Heineken, Yeungling 4.50 glass
Draft Beer
Harpoon IPA 4.75
Big palate of flavor, hoppy, a little bitter, pale ale from Boston
Fordham Copperhead Ale
Rich, Red, American Pale Ale which has a medium body and dry finish
Sam Adams Seasonal Changes with the Seasons:  Spring Noble Pils, Summer Ale, Octoberfest, Winter Lager
Stella Artois
Delicious pilsner lager from Belgium.  Earthy hoppiness tinged with a bit of lemon zest.